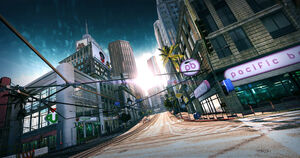 Downtown Central is a map introduced in the 1st Season.
Description
Edit
Downtown Central is a map with a lot of tight alleyways and curves, with some open spaces. The majority of the time, the player is driving on a freeway or a road.
This map is available to play in the gamemodes Race, Detonator, Elimination, Air Strike/Revenge, Onslaught, and Deadline.
Power Plays & Route Changers
Edit
Downtown Central has many Power Plays revolving around over-passes, buildings, and car explosions. 
This map has 1 Route Changer.
This map shares its design with Construction Site and Expressway.
The Bayside Convention Center Tower can be seen from Airport Terminal.
Almost all of Construction Site can be seen throughout the map.
The Expressway train route changer can be seen in the distance, but its location greatly differs than its appearance in Construction Site or the Expressway map itself.
There is a movie theater named MCN'O Cinema that features movies with many play-on-words such as Gone With The Car (Gone With The Wind), Fast Side Story (West Side Story), and 2010: A Race Odyssey (2010: A Space Odyssey).