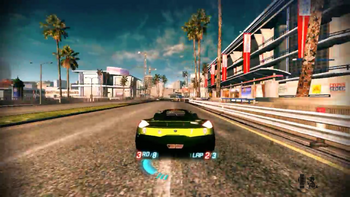 Construction Site is a map introduced in the 1st Season. 
Description
Edit
Construction Site and Downtown Central are both basically very similar; both featuring very similar power plays and layout. 
This map is available to play for the gamemodes Race, Detonator, Elimination, airstrike and Deadline. 
Power Plays & Route Changers
Edit
Construction Site's power plays are based around environmental and industrial explosions, though mostly based around Downtown Central's powerplays.
This map has no Route Changers, but has 1 Shortcut which is only accessable if the player activates 3 power plays for an unfinished construction building, which causes a crane to topple over on a trolley overpass, allowing the player to skip most of the final parts of the map.
This map is very unique in the way that it is the only map to have a shortcut only accessable by having the player activate 3 power plays.
All of Downtown Central can be seen from this map.
The Expressway train route changer can be seen, but the road leading to it is not visible.
This map has a section exactly the same as Expressway, though you are driving the opposite way. The Gas Station power play.