Canyon is a map introduced in Episode 11.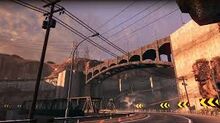 Description
Edit
Canyon features tight spaces and one jump which is accessible if the player activates the route changer which is close to the start.
This map is available for Race, Elimination, Air Strike/Revenge, and Deadline.
Power Plays and Route Changers
Edit
Canyon's power plays are based on environmental and industrial explosions.
This map has 1 route changer and 2 shortcuts.
This map shares parts of its track with Airplane Graveyard.
The Dam's name is called "AWA Dam." (AWA = Affiliated Water Authority.)